Daycare Homes
Turn Your Love of Children Into a Career...
...be a family Day Care provider in your home.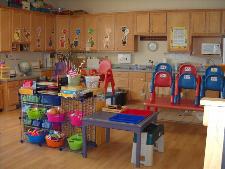 Call us for information on becoming a family/group day care provider.
WE'LL SHOW YOU HOW!!
Jeannette H. Cooper and the Daycare Home Staff
The need for family/group daycare home providers is tremendous. Providers enjoy the benefits of working while staying home with their children.
Are you interested in family/group daycare? If so you can learn about:
Operating a business

Nutrition, health and safety

Activities for young children

Infant and toddler development

Obtaining your license/registration
Consider the Benefits
Working in your own home

A regular income

Being your own boss

Spending time with your own children

Teaching the children good eating habits

More rewards that are endless!
Phone: (843) 407-9092
Fax: (843) 678-3412
Email: daycarehomessc@aol.com/JeannetteHcooper@aol.com
Special Note: There is an urgent need for weekday, after school/evenings, weekend and sick childcare!